The beautiful houses at Portholme are designed to provide the perfect environment for you to create your dream home. Having a blank canvas can be both exciting and a little overwhelming; knowing all the potential for the ideal home is in there.
Luckily, our three-bedroom houses give you full flexibility to make your home work perfectly for you. Depending on what you need from your space; whether it be to nurture a family, inspire and motivate your work or to relax and rejuvenate, you can find the perfect fit by revisualising a room's traditional purpose. Here, we have a few suggestions on what our spacious rooms can offer.
Dining room or family room…
It has been said that the kitchen is the heart of the home, and it certainly can be if you want it to be! We have chosen to have our kitchens as part of a larger open area to enable a more diverse use of space.
You can choose to keep this space food-centric as a kitchen and dining room, perfect for entertaining and for family mealtimes. In the space furthest away from the kitchen appliances, you can fit a large dining table and chairs or a smaller dining set to allow room for dancing or playing!
Another great use of this space is as a family room. Do you find your family or friends always gravitate and congregate in the kitchen? Or would you like everyone together after school while food is prepared? A large sofa or smaller sofa with chairs/ bean bags could punctuate this room for the family to enjoy while catching up on their day.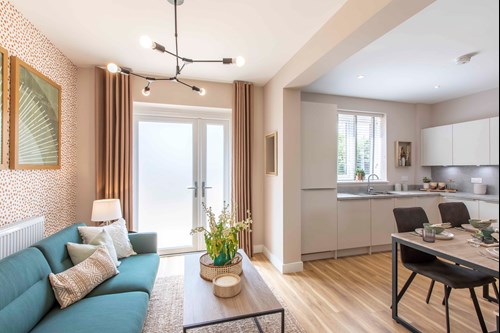 Snug, dining room, home office or workout room…
Downstairs, there is a space that perhaps traditionally would be described as the sitting room. If your kitchen and adjoining space are for eating and entertaining, this is a great space for relaxing, whether to watch television, read books or cuddle and catch up.
If you incorporate your family room into the spacious kitchen, then you may want this room as your dining room. In this context, this may be a more formal dining experience for special occasions and Sunday dinners.
This also might be a great space to dedicate to a more adult audience. We have seen this room be used as a snug, for once the children are in bed and a space for retreat is required. On this line, the room can be used as a larger home office space with plenty of storage/creative space or even a room for exercising or crafting. 
Spare room, kid's room, or home office…
The third upstairs room in the Portholme three-bed properties is possibly the most versatile. It is slightly smaller than the two other bedrooms, so is perfect to be enjoyed in a more individual capacity but is still big enough to hold a single bed.
If this is a home to start a family or nurture an existing one, the third room is a great size for a nursery or kid's bedroom. The room can fit a cot and changing table for a young child or new addition to the home. As mentioned, it can also fit a single bed and desk, perhaps for a studious older child or budding artist.
This room might be a place to work, do crafts or perhaps even get your business off the ground! With room for a large desk and anything else you might need to support you throughout your working day. Plus, you only have to commute downstairs.
Space is what you make of it
There you have it, a few ideas for alternative uses to traditional rooms. The potential of the three-bed houses at Portholme makes us at Legal and General MH very excited and we cannot wait to see how each new arrival uses their space.
Why not take a look around our 3 - bedroom home by clicking here.